Links and Small Ads
Below are links to a number of organisations that may be of interest. There are also a section of small ads for photographic kit that BPS members are offering to other members.
Photographic Organisations
Interesting Photo Sites
Material from BPS Talks
Digital Imaging Hints and Tips
---
Photographic Organisations
BPS is affiliated to the Photographic Alliance of Great Britain through its membership of the Kent County Photographic Association. We are also members of the Federation of South London Photographic Societies and Bromley Arts Council as well as being a friend of the London Salon. The RPS, PAGB and BPE offer distinctions for photographers whose work is assessed to be of a suitable standard.
Federation of South London Photographic Societies (FSLPS, aka. SLF)
BPS is affiliated to the FSLPS and participates in the various  inter-club competitions organised by the federation.  Entry for FSLPS competitions may either be on a club basis (chosen by the BPS Competition Organiser) or, for their annual Finals' Day are open to individuals to submit their prints, PDIs, or slides.  BPS typically hosts one or two FSLPS competitions a year, involving 4 or 5 visiting clubs. These events are listed in the BPS programme..
For more information about FSLPS events, see the BPS programme and the FSLPS web site: www.fslps.org.uk
Kent County Photographic Association (KCPA)
The KCPA has various functions, including supplying judges and lecturers to its affiliated clubs. It organises inter-club and open competitions, plus an annual exhibition. 
For more information about KCPA events, see the BPS Programme, and the KCPA web site: www.kcpa.co.uk.    
The Photographic Alliance of Great Britain (PAGB)
The PAGB organises competitions on a national basis, and holds an annual exhibition. BPS members' work may be selected to represent Kent in a PAGB competition, if the print/image has done exceptionally well in a KCPA competition.
PAGB awards the following distinctions to individuals upon submission of a panel of work:  Credit (CPAGB);   Distinction (DPAGB);  Master (MPAGB).
See also the PAGB web site: www.pagb-photography-uk.co.uk
The Royal Photographic Society (The RPS)  
The RPS is the oldest photographic society in the UK, and is open to all photographers. It awards the following distinctions to individual members, gained by application and the submission of a panel of work: Licentiate (LRPS); Associate (ARPS); Fellow (FRPS).
For more information, see their web site: www.rps.org.    
British Photographic Exhibitions (BPE)
The BPE offer crown awards, e.g. BPE2* (2 crowns), to photographers who have had a certain number of images accepted in recognised BPE exhibitions. There are about 18 recognised exhibitions (Oct 2011).
For more information, see their web site: www.b-p-e.org.uk
Federation Internationale de l'Art Photographique
The International Federation of Photographic Art has national bodies, in our case the PAGB, as its affiliates. It offers distinctions through the national photographic bodies, in this case: Artist (AFIAP) and Excellence (EFIAP).
The best site for information is: www.thepagb.org.uk/fiap_1.htm
Royal Horticultural Society (RHS)
The RHS runs a number of photographic competitions and exhibitions each year. Details are here.
London Salon of Photography
The London Salon has been established for over a hundred years and holds a prestigious annual exhibition which is displayed in London and around the country. Although it is tough getting an acceptance, if you manage it your work is showing 'distinct evidence of artistic feeling and execution'. Details can be found here.
---
Interesting Photo Sites
Local camera clubs: The FSLPS provides links here.
Release Group: Images by three photographers from Selsdon Camera Club and others are here.
Mirage Group: Images from a group of photographers mainly based in the Kent area are here.
Spectrum Photo Art: Images from a group of women photographers including Lesley, Sandy and Nenne from BPS are here.
Arena Group: A group a top photographers in the south of England. Their home page is here, and their galleries are here.
Clive Haynes: Useful site for digital photography techniques is here.
Linda Pitkin: Linda has given a number of talks on underwater photography to BPS. You'll find some of her amazing images on her web site here.
Glyn Dewis: For tips on retouching images glyndewis.com is very useful, and subscribing to his newsletter is very worthwhile. The videos section contains very useful step-by-step explanations of varoius retouching techniques.
PhotoStartSheet.com puts photographers in touch with over 500 of the world's top photo resources
.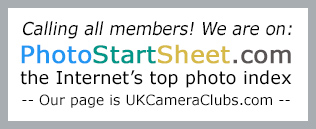 Photography Talk provides detailed and long-form guides on a range of photography topics, from beginner (Exposure triangle, Sunny 16 rule etc.) to more advanced such as astrophotography, landscape and nature photography.
---
Material from BPS Talks
Photography and the Law:Keith Surey's slides are here.
Distinctions and Exhibitions: Cathy Roberts' slides are here.
Steve's Photoshop Tutorial Images: Selection, Selective Sharpening, Save Selections, Dodge/burn/pattern brush, Mask/Gradient/Paint, RAW Crow, RAW WB, RAW Very Contrasty
October 2014: Lightroom 5 Introduction: Roger Crocombe's slides are here. His image-a-day shots are here. Here are three lists of Lightroom keyboard shortcuts:

Adobe's List (14 pages)
Photography Life's list (1 page)
Lightroom Queen's list (12 pages)
Photobooks (21st Jan 2015): Philip Pound's presentation is here.
Abstract Photographers of Note: Photographers mentioned in Caroline's talk on 2nd Sept 2015 are here.
Philip Pound's HDR talk to the BIG group is here.
Barrie Brown's Audio Visual Notes:
The software Barrie used for the Caravaggio AV was Proshow Gold. For access to Proshow Gold go to:
For a review of the top ten AV sequencing software packages, go to:
A number of clubs around the country have produced guidelines for producing AV sequences. These are very useful, not only for providing technical tips and shortcuts, but also by drawing attention how to stay within laws pertaining to copyright. For typical examples, go to:
Viveca Koh's Talk (Feb 2017) material is here with some details of apps here.
---
Digital Imaging Hints and Tips
Photoshop Playbook: Hundreds of Youtube videos are available to help you with common Photoshop problems. See here for an introduction.
Vanishing point:Cloning objects with noticeable perspective effects can be tricky. This video tutorial explains how to use Photoshop's Vanishing Point tool to do it.
Photoshop Adjustment Layers: If you have cut part of your image to a new layer (Ctrl-J), you may want to adjust the tone, colour balance etc of that layer, and only that layer. One quick way is to bind the adjust,maent layer to the layer beneath it by creating a clipping mask. With the adjustment layer selected, all you need to do is Ctrl+Alt+G, or Layer > Create Clipping Mask or right-click on the adjustment layer and select Create Clipping Mask.
See also: https://helpx.adobe.com/photoshop/how-to/photoshop-layers-affected.html
---
Goods and Services
Comments attributed here to members are only a guide and do not represent any form of guarantee.
Wideangle Market
The Wideangle market operates a sales table for members, stocking a variety of traditional and digital photographic items at very competitive prices. It is usually available at BPS meetings or from David Wood's home. Supplies include:
Printer ink
Printing paper
Batteries, SDHC and CF camera cards, Flash Drives
Bevel mount cutters
Mounting board - see chart for colour options (available at BPS meetings)
50 cm x 40 cm mounts with pre-cut and bespoke apertures
Pre-ordering of some items is appreciated. David Wood's contact details are on the paper programme given to members when they pay their subscription. The price list is here.
Ink-Jet Paper
Apart from the printer maker's own brand paper, a number of members use third party papers from Permajet, Fotospeed, Hahnemuhle. Generally, profiles are available for their papers for a range of printers, and some companies will make custom profiles if you order a reasonable quantity of paper.
On-line Paper supplies these and other papers, or through Wideangle Market. Robert Smith produces lovely prints on Canson Platine paper, although it is expensive. Somerset Enhanced and Permajet Oyster (lustre) are also worth considering.
Polina Plotnikova uses Paper Spectrum's papers, particularly favouring Cotton Textured Fine Art. They too provide profiles.
Pre-Cut Mounts
There are a number of companies offering pre-cut mounts. However, the carriage costs can be quite high so it is worth talking to other members if you are thinking of getting some so that these costs can be shared.
Fred Barrington and Sylvia Wilbur have been very satisfied with Cotswold Mounts: www.cotswoldmounts.co.uk
Polina Plotnikova is very satisfied with Carters Mounts: www.cartersmounts.co.uk
Digital Printing
Steve Wilbur has used thePrintSpace (www.theprintspace.co.uk) in Shoreditch to make large panoramic prints on Fuji Crystal Archive paper. They print on matt, gloss, flex and metallic Fuji Crystal Archive, Kodak metallic and also various papers with their Epson inkjet printers. Images can be uploaded and then collected about 4 hours later.
Framing Supplies
Wessex Pictures used to be in Croydon, but the nearest branch is now in Leatherhead. They supply trade and photographers with framing, mounting and related materials and tools. Details at: www.wessexpictures.com
Courses and Workshops
Welshot Imaging offer photography courses in the North West of England. Peter Foley has been on their High Dynamic Range (HDR) course which combines HDR photography and HDR processing into a one-day workshop.
Northshots offer wildlife and landscape workshops in Scotland. They have access to specialist hides for wildlife shooting. They also do landscape tours in the Cairngorms and Hebrides. Steve and Sylvia enjoyed their workshop taking in Harris, Skye and Eigg.
Calumet offer half-day and one-day photography courses in London and elsewhere. Steve Wilbur found a half-day workshop by Jayce Clark on Lightroom very good.
Lenslab offer workshops and BPS members get priority booking.
Equipment
Lenslab offer 10% discount on equipment to BPS members on hire of cameras, lenses etc. They are located in Haywards Heath.
---
Members' Small Ads
Please let Steve Wilbur know the details of any items you wish to advertise here.
The following are items that BPS members are wishing to sell to other members. Neither email addresses nor telephone numbers are given here for obvious privacy reasons, so if you are interested you should contact the advertiser at a regular BPS club evening or a BIG meeting.
No items for sale at present